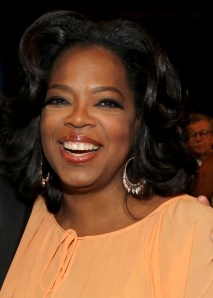 A series of blog posts on the Mellville House Mobylives blog have contributed to a wave of speculation saying that Freedom will be named Oprah Winfrey's next pick for her book club.
Yesterday publisher Dennis Johnson, who takes credit for coining the nickname "J-Franz," cited "reliable sources" in a post saying the novel had been selected. Today, he's posted a photo of the book bearing the coveted book club sticker.
This month's issue of O, The Oprah Magazine seemingly snubbed Freedom by leaving it off its "Ten Titles to Pick Up Now" feature, but books editor Sara Nelson declined to comment on the current rumors.
Oprah's not overly friendly to those who have done her wrong—James Frey, anyone?—and it's hard to see why she would hitch her star to a book that it's almost impossible not to have heard about. Still, it's conceivable that she's forgiven him for the anxieties that make him the Franzen we know and love.
We'll believe it when and if we see it on Friday, when the next book club pick will be announced.