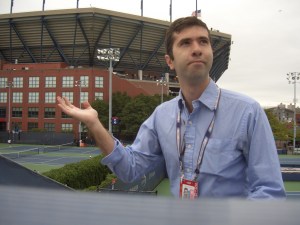 (Scroll to the bottom for latest updates)
Here we go again!
We're three hours until the Men's Final will begin, and for a three straight year, rain may force the Men's Final to be pushed to Monday afternoon. For perspective, in the Open era, this had never happened until 2008. Then it happened again last year. And here we go again.
After some showers this morning, it has been cold and breezy but dry since. The women's doubles final is currently being played on Ashe.
The USTA is optimistic. The latest report we have from them is as follows: "Based on the latest official weather report from the US Open Meteorologist, we are expecting intermittent light showers this afternoon. We fully expect to complete all scheduled matches today."
According to weather.com, there is only a 15 percent chance of rain at 4 p.m. At 5 p.m., that percentage drops to 10 percent. But for the rest of the evening?
6 p.m.: 35 percent

7 p.m.: 50 percent

8 p.m.: 30 percent

9 p.m.: 30 percent
As we've learned each of the last two years (and from Day 5 at the Open), it only takes a barely noticeable, no-umbrella style shower to suspend a match. Last year, USTA execs were ready to pull its hair out because the radar screen indicated it was dry outside, and yet, it would be drizzling and that's enough to keep the players off the courts. Everyone save Novak Djokovic wants to get this match finished today. We'll update you.
UPDATE, 1:37 P.M.: No rain!
1:53 P.M.: The USTA has put out another statement and it's slightly revised from their earlier one. They now are expecting light showers. Excuse me. Intermittent light showers. That's a downgrade from "showers," for sure. A major development! "Based on the latest official weather report from the US Open Meteorologist, we are expecting intermittent light showers this afternoon. We fully expect to complete all scheduled matches today. The Women's Doubles Final is underway and the Men's Singles Final is scheduled for 4:00 pm ET." (emphasis added).
2:16 P.M.: More encouraging signs: The Women's Doubles Final is underway at Ashe, and weather.com has just slightly adjusted its forecast for this evening. The 35 percent chance of rain at 6 p.m. has been downgraded to 30 percent, and the 50 percent chance of rain for 7 p.m. has been lowered to 45 percent.
2:56 P.M.: It is currently raining in North Jersey (turn on the Giants game!). No rain here in Queens. The women's doubles match is in the third set. Weather.com has, again, updated its forecast and now reports that the rain possibility ranges from 15 percent to 20 percent between 3 p.m. and 9 p.m. That's a downgraded forecast from the 50 percent they had earlier. The threat of rain isn't bothering Rafael Nadal. He just finished lunch, chatted with his entourage and then spied on Novak Djokovic for a couple minutes while he hit on the practice courts.
3:00 P.M.: Let the fun begin! The rain just started here in Queens. Head referee Brian Earley just went out to the court and stopped the women's doubles match. Umbrellas are up over both players. For now, players are being kept on the court.
3:06 P.M.: After conferring with head chair Alison Lang, Brian Earley has pulled the ladies off center court. They are headed to the locker room and we are officially in a rain delay.
3:10 P.M.: While we have a break in the action, it's worth pointing out that Alison Lang was the chair umpire for the Ryan Harrison match that was briefly delayed last Friday. Bad Luck Alison Rain it is.
3:21 P.M.: Just took a walk around the grounds. It's drizzling out there. Most people are going without an umbrella. After 10 minutes outside, there's no evidence of rain on my shirt. Not even a little wet spot to be found. In baseball, you'd play. In football, you wouldn't notice it. In tennis? It's enough to make the court slick, and USTA officials don't want anyone to tear an ACL out there. Currently the Ashe center court is empty. No one is drying, and no one is on it. The men's match does not begin until 4:30, so we do have 70 minutes to pray for this rain to go away. Even though the women's doubles match is 5-4 in the third set, they'll move that match over to Armstrong in a heartbeat, so no worries about the men's match having to wait anything out.
3:32 P.M.: The women's doubles match has officially been moved to Armstrong. When the rain stops and the court is dry, they will finish it there. The Ashe public address announcer said that this period of rain is expected to continue for a bit, and then there is a chance for another shower later this afternoon. The USTA, which sounded optimistic a couple hours ago, sounds a lot more cautious now.
3:36 P.M.: USTA just announced that they are "hopeful" that the women's doubles match will begin again at 4 p.m. The men's match is still scheduled for 4:30 p.m. Though the Ashe court is currently empty, those drying machines (see photo) are currently out at Armstrong to prepare for play.
3:42 P.M.: The official report from the USTA: "We expect light rain to continue for a period, followed by the chance of a light shower this afternoon."
3:59 P.M.: Never mind the barely noticeable showers. It's raining out there now. The drying devices have been called off of Armstrong and the women's match will not begin at 4 p.m. At this pace, the men's match will surely be delayed. It will take at least 30 minutes to dry the courts, and there is no sign of the rain letting up now.
4:05 P.M.: The USTA just announced that their meteorologist is expecting light rain for the next 45 minutes to an hour. By their projections, they will begin drying the courts at around 5 p.m. The drying process will take about 30 minutes, so at this point, the match looks like it will be delayed by at least an hour.
4:21 P.M.: A reader just sent in a great question: What's the latest they can start this match? If it's any day other Day 14, I think they start this match at any time the rain stops. But there is one big problem: What to do with CBS? CBS has dedicated a 4:30 to 7 p.m. time block for this match. 60 Minutes is scheduled for 7, followed by Big Brother 12, Undercover Boss and CSI: Miami. Naturally, if the match runs long, it runs long, but I doubt CBS wants to see its entire primetime lineup wiped away tonight. So if the match begins at 5:30 and the match ends at, say, 8:30? I think everything is fine. But what if it begins at 6 and gets delayed for another hour between 7 and 8? Are USTA officials quicker to suspend the match and continue play tomorrow because CBS doesn't want to lose its primetime lineup? The USTA doesn't just answer to CBS, though. They've got ticketholders–fancy ones!–who want tennis today. They don't want to leave work at 3:30 tomorrow to catch the rest of the match. If rain does stop at around 8 p.m., is the match put on ESPN2? Lot of factors at play here. I emailed a CBS Sports spokeswoman, and awaiting reply.
4:34 P.M.: The men's match is officially delayed. No surprise here, but we'll see if the rain stops over the next 10 to 30 minutes as the USTA predicted just after 4 p.m.
4:38 P.M.: The USTA's forecast is getting worse by the second. Thirty minutes ago, they called for the rain to stop around 4:45 to 5 p.m. Now they believe it will last at least another hour. If that's the case, the match will not begin until about 6 p.m.
5:08 P.M.: Novak Djokovic is pacing the hallways of Ashe near the men's locker room. He shouted out, "I called it! I called for rain." He obviously needs it in order to get an extra day off. Novak walked around with a Serbian friend and studied the oversize photos of former champions, making comments about the size and shape of their (much smaller) tennis racquets.
5:09 P.M.: And, yes, still raining. Every court here is soaked, and there are puddles all over the grounds. The USTA is still hopeful that we've got a dry window that could start about 20 minutes from now.
5:18 P.M.: Looks like I have a little competition. Joe Coscarelli just pointed out that Martha Stewart is live tweeting the rain delay. Game on.
5:40 P.M.: The USTA's prediction that the rain would stop by now has officially expired. It's drizzling out there, and the Ashe court is still soaked. The rain delay now stands at 2 hours and 40 minutes old (it began at 3 p.m. with the suspension of the women's doubles match).
5:45 P.M.: I still haven't heard back from the CBS Sports spokeswoman, but I'm inclined to believe that this match will be called off far earlier than it would otherwise. I'm sure CBS would much rather air an afternoon match tomorrow than lose its primetime lineup if the rain actually stops in the next hour or two. Both last year and in 2008, the men's final was aired on Monday thanks to the rain and they both recorded the lowest ratings in Men's Final U.S. open history.
5:50 P.M.: Time to start the roof over Ashe debate again. In the past, the USTA has bristled at the suggestion of building a roof. They've put the pricetag at $100 million+ and they've argued that it's pointless to spend that much cash on something that will only be used once or twice a year. But if they lose the Sunday men's final for a third straight year? Certainly it's going to be a question that's fired at USTA PR man Chris Widmaier if play is suspended today.
5:56 P.M.: The USTA's latest announcement: "Unfortunately, the weather has not improved, and we continue to experience rain at the USTA Billie Jean King National Tennis Center. We will have another update shortly after 6 p.m. regarding the schedule of play." The USTA is obviously throwing its forecast out the window since it hasn't been right so far. I'm curious what that 6 p.m. announcement could be. Considering the CBS issue, I wouldn't be surprised if they canceled play earlier than usual today.
6:08 P.M.: Well, someone just walked across center court. This seems promising! Oh no, wait, off he goes, back into the tunnel. It's raining harder now than it has been over the last 3 hours. The USTA still has not issued that ominous 6 p.m. announcement.
6:18 P.M.: There's the announcement: The men's Final has been canceled. It will be played tomorrow at 4 p.m. It's been real, folks! A third straight year that we are forced to play a Final on a Monday.