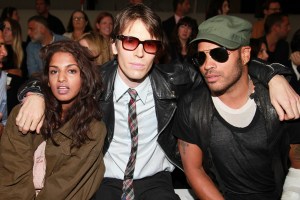 Yesterday's Alexander Wang show took place at the massive hanger that is Pier 94, and after the requisite delay the looks began to emerge from beneath the extraterrestrial Jason Hackenwerth balloon sculpture. André Leon Talley and Grace Coddington sat without companion Anna Wintour, perhaps because there was a certain tennis match of a certain friend of Anna's that conflicted. One particularly vibrant span of the front row had Ryan McGinley in the same zipper-heavy leather jacket from Don Hill's the night before sandwiched between M.I.A. on one side and Lenny Kravitz on the other. As if the show wasn't late enough, an assistant took by the arm a quite tardy — and quite confused-looked — Olivier Zahm, whom the organizers hastily placed next to Stefano Tonchi.
The cavalcade of models — including familiar face Agyness Deyn — all had white paint heaped on their hair, and walked in airy looks that came in waves according to color.
"The colors were so beautiful," Mr. McGinley told The Observer after the show. He agreed with us about the sci-fi feel of some of the clothes, which was set up by the foreboding balloon structure. "There were some pieces that kind of reminded me of Blade Runner that I liked."
But perhaps the accentuating detail that made the strongest impression was the music: a churning series of start-stop blippy and booming dub that would attack over and over again. Memorable, to be sure, though polarizing may be the better way to describe it. So we talked to M.I.A., sonic provocateur par excellence, about what she thought of the soundtrack.
"It just seemed like a Die Antwoord CD on repeat, yeah, with a bit of dubstep thrown in," Maya told us in her thick English accent. "But it was interesting. It's definitely juxtaposed with what the style of the clothing was. It was a good contradiction, I thought."
Suffice it to say that Alexander Wang makes sure the music at his show — much like the show itself — brings something different to the table.