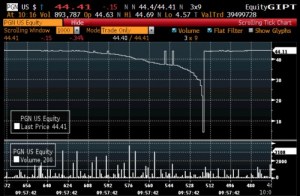 We have another mini flash crash today. This time the unusual trading activity takes place in shares of Progress Energy (PGN), which today plummeted to a low of $4.57 and are now trading in the $44.50 range.
Today's mini crash follows a similar event in shares of Nucor that happened two weeks ago. It also follows a new report from stock-information provider Nanex that says the events that precipitated the May 6 flash crash, during which the Dow Jones Industrial Average lost some 700 points in 15 minutes, may have been the inadvertent byproduct of market-manipulating high-frequency trading.
Update: According to Fortune's Street Sweep, "The New York Stock Exchange, where Progress shares are listed, said the troublesome trade took place on the Nasdaq. A Nasdaq spokewoman said she will have a statement momentarily." Fortune is also reporting that the stock stopped trading for five minutes because of circuit-breaker rules put in place after the May 6 crash.
Seagate Technologies and Intel have also triggered SEC circuit breakers in the past month.
Related: 10 Mini Flash Crash Stocks
mtaylor@observer.com
Twitter: @mbrookstaylor