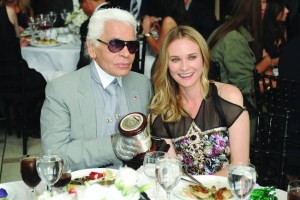 "I think this is the most incredible day of all week," Fe Fendi (the very Italian wife of Fendi scion, Alessandro) told The Observer on Friday. A risky conjecture to make on the second day of Fashion Week–but possible, given we were chatting at the FIT Couture Council luncheon honoring fashion's high priest, Karl Lagerfeld. Mr. Lagerfeld wore his customary ensemble (suit, tie, fingerless gloves), but in gray, shocking those of us who are used to seeing the Kaiser in black. Diane Kruger, who presented Mr. Lagerfeld with his Fashion Visionary award, told us the best piece of advice he's ever given her: "He always says don't let the dress wear you–it's all about the dress, but you've got to just own it." Ms. Kruger did just that, in Chanel couture, naturally.
Later that evening, after hopping around the packed Soho streets for Fashion's Night Out, we found ourselves in an even more aggressive mob scene: the line of people desperate to join us at the Pop magazine party at Don Hill's. Dubbed the party of the week before it even happened, the bash at the new venture from nightlife barons Nur Khan and Paul Sevigny attracted the evening's biggest names. As Iggy Pop rocked on the stage, Gwen Stefani sat perched on a ledge cradled by husband Gavin Rossdale; Mary-Kate Olsen stood on a bench to make up for her height; and Nicky Hilton chatted to the woman of the hour, Pop editor in chief Dasha Zhukova, girlfriend of one of the world's richest men, Russian billionaire Roman Abramovich.
Of course, Chloë Sevigny wouldn't miss out. She had on a T-shirt and jean skirt befitting the gritty Don Hill's feel, and told The Observer that her brother's place would be the city's new hot spot. "It's what it was like at the Beatrice, and it's probably been missing since the Beatrice," she said. (What she didn't say, of course, was that the Beatrice Inn was closed in 2008 for overcrowding and "inadequate means of egress"–problems that hopefully will not plague Don Hills.)
On Saturday night, at the after-party for Charlotte Ronson's spring collection, Ms. Ronson, wearing a fitted, frilly blue dress, told us she was feeling good after her show, and said the rest of her week will be filled with "meetings–hopefully positive ones!" Her twin sister, Samantha, explained the personal significance of her final musical selection from the show, Lisa Loeb's "Stay": "That was an ode to one of my sister's and my best friends from when we were kids. She died a few years ago, and that was like our song together." Rashida Jones, on the other hand, wasn't feeling chatty, but she was clearly thirsty, as we witnessed her pour a hefty amount of vodka straight from the bottle into a empty coconut-water carton.
More action at Alexander Wang's party. The young designer topped his gas station soiree from last year's Fashion Week with a full carnival, built from scratch in a parking lot at 18th Street and 10th Avenue. Dree Hemingway, Terry Richardson and Agyness Deyn all turned up for the pulled pork sandwiches and skee ball.
The wildly enthusiastic Mr. Wang talked to us for a few moments, but didn't have time to stay put. "Will you walk with me to the bar?" he said as we dodged the cameras and flashbulbs. "We need alcohol! We need alcohol! Sorry!"
We asked Mr. Wang, who had on a black T-shirt, black shorts and black sneakers, about the theme for his over-the-top party. "The carnival is the new performance. Everyone can be a performer now."
We asked him to elaborate. "I just want people to have fun," he said. "Just get drunk, have fun, have a good time."
Our fashion crawl came to a close on Sunday night at the Tommy Hilfiger 25th Anniversary after-party, where we got a little literary with Mad Men's Christina Hendricks. "I just finished The Way the Crow Flies, which I absolutely loved," she said. Next on her night stand is One Hundred Years of Solitude, which she's started three times but never made it past the first chapter. "I know it's going to be worth it if I just go for it. … I know the payoff will be there," Ms. Hendricks said. We also ran into Kelly Osbourne, who told us she was looking forward to hearing the evening's musical performers, the Strokes, play for the first time in New York since 2006. "Before there was the Strokes, I really liked *NSYNC and, like, really big pop music. And then the Strokes came out and they are what made me change my taste, I guess you could say. In my generation, I think that happened with a lot of people."
Asked what his favorite moment of the party was, Mr. Hilfiger said, "Having all of my friends there, including Jennifer Lopez, Bradley Cooper, Rebecca Romijn, Jason Lewis, Lenny Kravitz, to celebrate with me, and the Strokes' performance. It was one of the best nights of my life."
editorial@observer.com