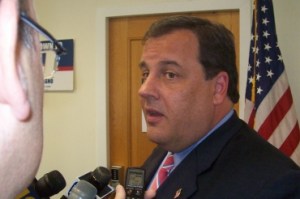 More New Jerseyans support Gov. Chris Christie's reform agenda than trust legislative leadership to solve state problems, according to this morning's Monmouth University/Gannett New Jersey Media Poll. People approve of the governor's plans to increase state workers' health care premiums and eliminate dual office and pension holding, but the poll also shows divided opinion on cutting pension benefits for current employees and doubts about the effectiveness of Christie's relationship with the legislature.
One-in-3 New Jerseyans (32%) say they have a lot of trust in Chris Christie's reform agenda, better than the 1-in-7 who have a lot of trust for either legislative Democrats (14%) or Republicans (14%), according to the poll. Twenty-percent of mayors are also "relatively more likely than legislators to engender a lot of trust when it comes to reforming government."
Three-in-10 residents say they have no trust at all in either Governor Christie (29%), legislative Democrats (29%), or legislative Republicans (36%), and about 1-in-4 (26%) have no trust in their local elected officials.
"While the New Jersey public is not unquestioning in its support, the governor does have a credibility advantage over the legislature when it comes to reforming government," said Patrick Murray, director of the Monmouth University Polling Institute.
Twenty-one percent of those polled say Christie and the Democratic legislative leadership have been working well together, while a majority (61%) say they have not been working together all that well. "Among this latter group, most (54%) say both sides are equally to blame for this state of affairs, with the remainder slightly more likely to blame Christie (26%) than the Democrats (17%)," according to the poll.
In other poll results, just 31% say that state government workers need higher benefits, compared to 61% who say that government salaries are good enough to compete with private employers. Murray said the number who feel that extra benefits are not necessary has increased by 10 percentage points since 2005. Only 8% say state government has been managing the costs of its pension system wisely, and 78% say these costs are out of control, up sharply from 59% who felt the same five years ago.
"Despite the pension system's current fiscal state, the public is conflicted on whether to cut benefits for current government workers – 46% say yes, while 46% disagree," said Murray. "Although state opinion is currently divided, it should be noted that two and a half years ago, fewer residents (39%) supported reducing pension benefits while a majority (54%) were opposed.
"A majority opinion does emerge, though, when it comes to new employees. Fully 6-in-10 (61%) New Jerseyans say that newly hired government employees should be put into a 401k-like defined contribution plan rather than a pension. Just 27% disapprove of this idea. Approval for this idea is up by 9 percentage points since March 2008."
The poll shows that about half of the public is in "general agreement" with state workers paying 30% of their healthcare premiums. Forty-eight percent feel state workers should pay about "25% or more of their health care premiums – up from 43% who said the same five years ago. Another 31% feel they should pay about 10 percent and 12% feel they should not have to pay anything for health care coverage."
Seventy-one percent disapprove of anyone receiving two public salaries, even if both jobs are classified as part-time. Only 23% would continue this practice.
Also, "about 22% of New Jerseyans have been on the public payroll at some time in their lives," according to the poll. "Among this group, 56% say that government salaries are good enough to recruit a quality workforce without added benefits; 71% agree that state workers should be restricted to holding only one public job; and 54% approve of putting new employees on a defined contributions retirement plan. However, only 40% say state workers should pay 25 percent or more of their health care premiums; and just 35% support reducing pension benefits for the current workforce."
Eight-hundred and one New Jersey adults participated in the poll from September 15 to 19th. The sample has a margin of error of + 3.5 percent.