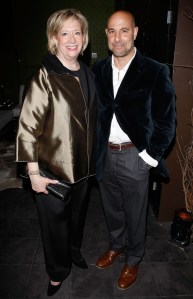 Barbara Fairchild is leaving Bon Appetit after 32 years at the magazine, Conde Nast announced this afternoon. She will remain editor-in-chief until a successor is named.
Last year, after Conde Nast made the surprising decision of closing Gourmet and retaining Bon Ap, Ms. Fairchild was hailed as sort of a forgotten hero at Conde Nast. Apparently, her position as the only editor of a food magazine at Conde Nast will be short-lived.
The news about Ms. Fairchild's departure was lumped into a press release that announced that the magazine, like Architectural Digest, would relocate from the west coast to New York.
"The move of Bon Appétit's editorial headquarters to New York is part of the company's continuing efforts to strategically align our brands for future growth and to enhance efficiencies and coordination by consolidating our assets," said Mr. Townsend, in a typically cold Townsendian statement.
Ms. Fairchild had been editor for 10 years.
This has been a busy season for Conde Nast editorial director Tom Wallace. In the last six months, the company has named new editors at W, Lucky, Architectural Digest, and removed and replaced Patrick McCarthy with Peter Kaplan as the head of Fairchild.