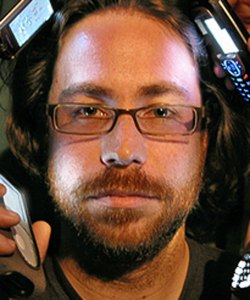 What's in a name? On television, quite a lot: For every pitch-perfect title like Law & Order or Lost, there's a Shasta McNasty, a show christened so poorly that its name is as responsible for its swift cancellation as anything else. While a clever moniker won't compel you to watch a poorly wrought program — we're talking to you, Cougar Town — sometimes a solid title can make all the difference.
Perhaps no man knows this as well as Jonathan Coulton, the musican behind the zombie-themed song "Re: Your Brains" and the album Our Bodies, Ourselves, Our Cybernetic Arms. The 39-year-old Brooklyn resident has garnered a rabid cult audience in part because the titles of his songs fit so perfectly with their content and the geeky audience he's trying to reach.
VIEW SLIDESHOW > WHAT'S IN A NAME? COULTON'S FALL TV PREDICTIONS
"The best kind of title is one that comes naturally from the content," says Coulton by phone from Cleveland, where he was vacationing with his family. "But it has to be arresting in some way, maybe present a puzzle. It's got to grab the attention of the person who may be thinking of consuming this content."
Given the hirsute troubadour's prowess at devising inventive nuggets, we figured he'd be the perfect companion on our admittedly ridiculous pop-culture quest: to preview this fall's crop of new TV shows based solely on their titles.
Here's how our preview works: 1) We give Coulton the title of a series. 2) He offers up what he imagines the show might be about. 3) We tell him the program's true premise. 4) He sums up the show's chance for survival.
Only time will tell how Coulton — who is currently recording an album with John Flansburgh (of They Might Be Giants fame) and also finalizing plans for a star-studded January cruise for his fans — fares as a one-day television critic. But we're never going to bet against a guy who allegedly killed one of John Hodgman's cats.
VIEW SLIDESHOW > WHAT'S IN A NAME? COULTON'S FALL TV PREDICTIONS