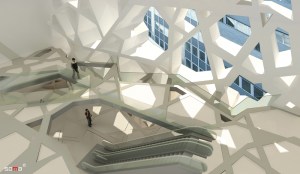 Today, @Park51, the official Twitter feed (as opposed to all the fake ones) announced "new renderings." New unless you'd watched last weekend's episode of 60 Minutes, that is. Or gone to one of the controversial community board meetings this spring. Or been a member of the Real Estate Desk, who happened to sit down with the developer, Sharif El-Gamal.
The Real Estate Desk emailed El-Gamal to see what was different about these new designs but has yet to hear back. To be fair, El-Gamal probably has better things to do, like continue his media offensive on the BBC, where he declared, "In New York, you don't choose buildings, buildings choose you." Here's hoping these new renders don't stir up a whole new wave of rage.
Imam Faisal Abdul Rauf at a community board hearing earlier this year and the new-look Park51 (click to zoom).