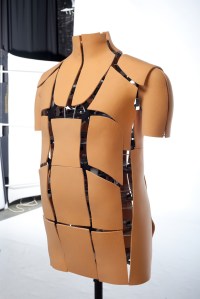 There are a lot of unpleasant things about heading down to Broadway and shopping for a new outfit. The crowds on the street. The line for the dressing room. Wouldn't it be great if you could try this stuff on from the comfort of your own home?
Estonian (yes Estonian) bio-robitcs firm Fits.me has just raised another $1.75 million in their series B round of financing. The company has created a virtual fitting room for online retailers so customers can see how clothes would fit without ever leaving the house.
The startup uses an amazing robotic mannequin that can shift into 10,000 different body types, from hourglass to pear. You can try it out now on the Fits.me website but, sorry ladies, it's gentlemen only for now.