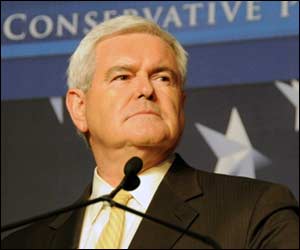 Newt Gingrich appeared on the Brian Lehrer show on WNYC this morning and strongly backed Carl Paladino for governor, becoming one of the most prominent national Republicans to do so.
"Of course, "Gingrich said in response to a question from Lehrer if he was backing Paladino. "If you want to rebuild the jobs in New York State, Paladino is the only choice in the election. Andrew Cuomo represents paying off the government employee unions, more expensive government, higher taxes, and continuing to destroy the New York economy."
(Question: Does this mean that Sarah Palin is going to endorse Rick Lazio?)
Gingrich was also asked about Dinesh D'Souza's "How Obama Thinks" article in Forbes, in which D'Souza wrote:
Our President is trapped in his father's time machine. Incredibly, the U.S. is being ruled according to the dreams of a Luo tribesman of the 1950s. This philandering, inebriated African socialist, who raged against the world for denying him the realization of his anticolonial ambitions, is now setting the nation's agenda through the reincarnation of his dreams in his son. The son makes it happen, but he candidly admits he is only living out his father's dream. The invisible father provides the inspiration, and the son dutifully gets the job done. America today is governed by a ghost.
Gingrich has called the piece "the most profound insight I have read in the past six years about Barack Obama," and told The National Review, "What if [Obama] is so outside our comprehension, that only if you understand Kenyan, anti-colonial behavior, can you begin to piece together [his actions]?"
He stood by those comments on Lehrer this morning, telling the host that Obama was "the most radical president in history," and explaining that Obama's "anti-colonial" mindset meant, " you don't see Winston Churchill as the man who helped defeat the Nazis or the man who helped stop the Soviet Union. You see him as somebody who tried to preserve the British empire. It means you start out every morning with a belief that the West somehow exploited the rest of the world and therefore the west is not worthy of equal treatment."
Full interview available here.
dfreedlander@observer.com