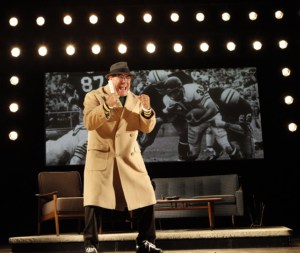 Starting September 21, theater aficionados outside of Circle in the Square on Broadway will be sharing turf with an unlikely set of ticket-holders: football fans.
Last April, producers Tony Ponturo and Fran Kirmser announced plans for Lombardi, about inspirational football coach Vince Lombardi, with The National Football League as a producing and marketing partner–the first time the NFL or any major sports organization has ever paired with Broadway for a live theatrical event.
A bio-drama based on David Maraniss' book When Pride Still Mattered, the play stars TV's Dan Lauria (The Wonder Years) as gridiron legend Lombardi, whose hard-nosed coaching tactics and mythic leadership skills transformed the Green Bay Packers into one of the NFL's most formidable championship franchises and Lombardi into the archetype for the all-American football coach. Judith Light (Ugly Betty) also leads the show's cast of seven, costarring as Lombardi's ever-supportive, if frequently frustrated, wife Marie.
So, how'd the NFL end up playing ball on a niche field like Broadway? To the show's producers, the relationship between the production and its partnering organization is symbiotic by necessity.
"When you're doing a show about Vince Lombardi, whose name is on the Super Bowl trophy itself, you want the NFL's endorsement. It gives the whole project credibility," said Mr. Ponturo, formerly a sports sponsorship guru with Anheuser-Busch. (Mr. Ponturo's five-year relationship with the NFL during his tenure with that company was the reason Lombardi landed on the desk of NFL commissioner Roger Goodell, who approved the venture.) Similarly, the NFL's immediate interest in endorsing the project seems to have laid less in what it says by being involved than what it would have said to not be.
"The name of the play is Lombardi," said Tracy Perlman, the NFL's Vice President of Entertainment Marketing and Promotion. "[That name] is the basis of everything our players believe in and the embodiment of everything our fans want to see every week. Anybody who goes to see [this play] will really, truly understand how our game evolved. From that point of view…it wasn't a hard sell for us."
Considering the NFL hasn't invested financially in the play the organization has everything to gain, with Lombardi marking a novel test-opportunity for the NFL to reach new audiences via live theater. According to The Broadway League, a Broadway trade association, the 2008-2009 season was one of the Rialto's biggest on record, with over 12 million tickets sold. Granted, this is a comparative drop in the bucket for the NFL, which sold 17.2 million game-day seats in 2009 and boasted 106.5 million Super Bowl XLIV viewers. Broadway's appeal is rooted in its demographics; 66% of those 12 million tickets were purchased by women, while 16% (the largest percentage bought by any one group that year) of all seats were snagged by the coveted 24-34 age bracket.
"We try to be as innovative as we can in [reaching audiences]," Ms. Perlman said. "The [show] is going to appeal to women and families as much as men, and we'll have a presence in an area people may not have thought we would be involved in."
The teaming of high-drama sports and relatable day-to-day life theatrics has already proven to be a winning crossover combination–just last year The Blind Side used Lombardi's similar formula of real on-the-field fireworks, family adversity and an inspirational lesson to propel itself to $255.9 million in domestic grosses, not to mention that Academy Award win for leading actress Sandra Bullock.
Historically, however, sports-themed plays haven't always fared so well on Broadway. 1962's All American, the Mel Brooks musical about an underdog football team's game plan, lasted just 86 performances. 1969's Buck White, a tuner starring Muhammad Ali, ran four days. And even successful examples, such as baseball musical Damn Yankees and gay baller drama Take Me Out, use the field as a backdrop rather than foundation.
The minds behind Lombardi know this.
"Many of those shows were not about the sport so much as an event that happened near the sport," said Ms. Kirmser. "This show is about football and how one man transcended the game itself. That sets it apart from any other sports show previously." Plus, said Mr. Ponturo, "We used to use a phrase in the beer business: 'The consumer needs permission.' This is what we're hoping for here, that the NFL's stamp of approval on this show gives the average [football] fan, who may never have been in a theater let alone a Broadway house, the confidence to go see it."
So should we expect the next Super Bowl all-star, covered in confetti in 2011, to look into a camera after clinching victory and declare "We're going to Broadway!"?
Not necessarily. But such a moment isn't impossible should the union between the Rialto and the gridiron be a fruitful one.
"We've got 32 markets and fans all over the country," said Ms. Perlman. "That will go a long way. If this show ends up touring to Green Bay, I have a feeling every person who lives there will go see it."
editorial@observer.com