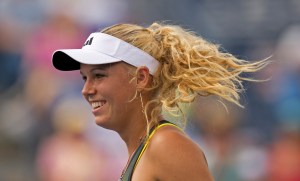 Don't expect Caroline Wozniacki to tell you how she looked up to Maria Sharapova when she was younger, no sir.
After her third round victory on Saturday, Wozniacki was asked when she was younger if she wanted to be like Sharapova–the champion, the spokesperson, the celebrity, the whole deal. Wozniacki chose someone else instead.
"Well, you know, to be honest, Kournikova was always for me the girl that I thought was just…I wanted to be like her, definitely, you know," she said. "I thought she was very pretty. She was handling everything really nicely. You saw her everywhere in the commercials. I think I would more go for Kournikova."
O.K, but then certainly Caroline would look up to Sharapova as a player? After all, Sharapova is a three time Grand Slam winner!
"Players that I really admired was, yeah, Steffi Graf, Martina Hingis–those were the girls that I really looked up to," she said.
Anyway, later this afternoon, Sharapova and Wozniacki will face in a fourth round match that might as well be a semifinal. Wozniacki is playing the role this year of the Woman-Who-Is-Ranked-No. 1-But-Hasn't-Earned-It, but she's being dominant so far. She has only dropped 3 games, and won 36 in her first three matches. Sharapova, meanwhile, was a popular pre-tournament pick to win the tournament since the women's side is so wide open and she seems due. It'll be a great match, but I'm expecting Wozniacki to win on national TV, win at Ashe and prove that she's here to stay. And, most importantly, she'll have fun with all the attention. She's going to prove that she's not Dinara Safina, Jelena Jankovic, Ana Ivanovic or any other women's player who was ranked no. 1 and hasn't been able to capitalize on it.