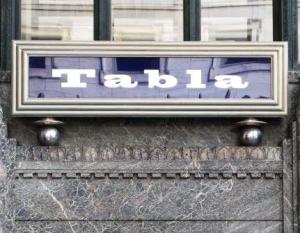 And a chill goes through the town.
Danny Meyer's Union Square Hospitality Group just announced that Tabla, a 12-year veteran of the Madison Square neighborhood, will close at year-end.
The restaurant, in the same building as Meyer's Eleven Madison, led the "upscale Indian" trend way back.
Famous for its breads and its noise (a circular balcony over the Tabla bar made for difficult lunch conversation), the restaurant was, impressively, the Flavor of the Month for a good year when it first opened. More recently, it had been looking for another, smaller location but that plan appears to have ended. A series of goodbye parties, tastings and cooking classes will be held in the next three months.
Chef Floyd Cardoz, a four-time James Beard nominee, will remain with USHG and Kevin Richer, the restaurant's general manager, will move on to run the group's café at the Whitney Museum, opening 2011.
Last spring, Meyer told The Wall Street Journal's Katy McLaughlin that margins in his fine-dining restaurants were shrinking, but business was good at casual dining establishments.
Translation: the Shake Shack-ing of America will continue.