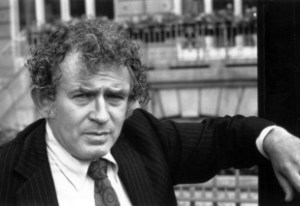 Page Six today offers some lowbrow gossip about a family that made its name on highbrow smut. Michael Mailer, eldest son of Norman, will reportedly be separating from his wife of six years following her giving birth to another man's child.
Mr. Mailer is a movie producer behind a few things you haven't heard of, and his wife Dominque is an investment bank heiress. According to the article, Mr. Mailer proposed to her by taking her on a helicopter ride over Brooklyn Heights—a neighborhood that will forever be associated with his father—where he'd spelled out "Will you marry me?" in Christmas lights on his building.
But now it's all soured and Mr. Mailer—or someone, most likely him—even names the man who he suspects fathered the baby. If you've got to air your grievances, Page Six is as good a place as any, we suppose.
Norman Mailer had nine children over his six marriages, so it's to be expected that their exploits will hit the tabloids every now and then. For example, Michael's brother Stephen is an actor who plays the role of "happy husband" in Jack Goes Boating. So expect a Gatecrasher item about that tomorrow.