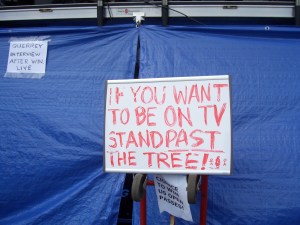 Tonight is ESPN2's last day of U.S. Open coverage, which means the tournament is about to get super serious as we turn to the men's and women's semifinals and finals, all of which are broadcast on CBS.
This is ESPN's second year covering the Open after USA covered it for years and years. Overall, I mostly liked ESPN, but there are still a few things that bothered me.
THREE THINGS I LIKED:
Pam Shriver: There isn't a lot more Pam Shriver would need to do to win me over, but the deal was sealed when she frantically waved a cameraman over like a third base coach giving a green light to a base runner as Rafa was in a state of undress two nights ago. She wanted Rafa shirtless in her post-match on-court interview. It's not entirely clear why. It was 1:17 in the morning, so it wasn't exactly for ratings, but it's what Pam wanted and her very determination to get what she wants is what's working. When she used that oversize thermometer for those early hot days of the Open it was a predictable trick, but, somehow, when Pam was holding it, gazing at it, and reading it, it worked. Shriver has matured into the sort of delightfully competent and kooky sideline reporter that makes broadcasts magical. She has been absolutely fantastic this year–her back-and-forth with McEnroe last night on her high school education was also another big plus-plus–and ESPN appropriately is giving her a longer and longer leash because Pam Being Pam is becoming something sort of special.
The South Plaza Studio: ESPN is doing a marvelous job making use of its outdoor stage and drawing in Open attendees to the TV platform the way they have with college football fans on GameDay. When the cameras followed Serena and Venus up to the studio and let Serena interview Venus last week it was another pretty awesome television moment.
SPIDERCAM: That aerial cam at Ashe that navigates the court the way NBC and ESPN do it for NFL games has been awesome. Great views of the players, and the action during change-overs. The camera is also the watermark of a real sports operation, and ESPNs very presence has given the Open a sense of importance and relevance it may not otherwise have.
THREE THINGS I DIDN'T LIKE:
Chris Fowler: I've said it once, and I'll say it again: Keep Fowler in the studio, and take him out of the broadcast booth. Fowler is fantastic as a host, and he would be an upgrade over Hannah Storm. But Fowler, who has improved leaps and bounds when it comes to understanding tennis and the subtleties of a tennis broadcast, is still a bit ill-suited for the job. ESPN opens up its wallet for Mary Carillo and John McEnroe, and they should do the same with Ted Robinson. Give him the marquee broadcasts at night. Also, they must scale back Brad Gilbert.
Brothers McEnroe: There are definitely some advantages to having John and Patrick in the same booth for the nighttime men's matches, but, novelty aside, they need a grown-up in the booth. Patrick has done a solid job trying to play the "straight man" to John's color guy routine, but they need either a third guy in the booth, or to boot out one of the brothers and bring in a…Ted Robinson! Also, adding a woman to a men's match would be a good touch too. Listen to Mary Carillo on CBS during a men's match. She's usually more valuable than John McEnroe.
Skipping Two Days of Coverage: Over the last two years, when the clock has hit 6pm on Saturday and Sunday, CBS has handed its tennis coverage over to The Tennis Channel. As a result, most New Yorkers missed the end of the Murray uspet this past weekend, and a Blake-Djokovic match on Saturday night. I wish ESPN would find a way to keep weekend night coverage too.