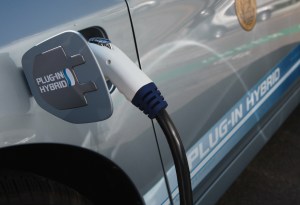 NPR's Audience Insight & Research group posts information on the radio network's blog Go Figure, and this blog shares with the world the beliefs and habits of a constituency we know too well already: NPR listeners. Today's nugget of information is related to the car preferences of NPR fans, and it will come as something less than shocking that listeners are quite fond of those green, earth-friendly hybrid automobiles. In fact, the NPR report on Go Figure claims that 80% of listeners would consider purchasing one.
According to a recent audience survey, conducted on behalf of NPR's corporate sponsorship team, we learned that nearly 40% of NPR station listeners say they're at least somewhat likely to buy a new vehicle within the next 12 months. And when making the decision, four out of five listeners would consider a hybrid (with three in five willing to consider an ethanol or flex-fuel vehicle).
What remains to be answered is how many of these listeners who responded to the survey live in Park Slope, where they buy soil for their roof gardens? And do things like drink imported Coca-Cola and eat room-temperature cheese while pining for ways to lessen their carbon footprint? Buying a hybrid, of course, is only the first step.