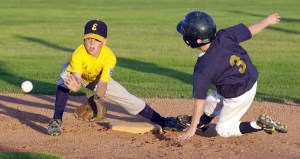 NY startup Fungo has scored a major partnership with Little League International to make the official iPhone and iPad apps for the league's 75,000 teams.
Fungo is liscensing two apps, one of which helps teams to keep score and tabulate player stats. A second app lets user stream a live play by play of the game.
There is one small problem here. The Fungo app relies on parents and coaches to input the statistics. As anyone who has been to a little league game knows, overbearing sports dads are not exactly the most unbiased source of information.