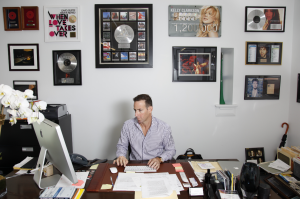 My profile in this week's paper of Jeffrey Rabhan, the new chair of New York University's Clive Davis Department of Recorded Music, opened with his meeting with Ken Friedman: He asked the restaurateur and former Smiths manager to join his department's board, which, over obscure tequila, Mr. Friedman agreed to.
But just before their get-together, I watched a different kind of meeting. Sitting in Mr. Rabhan's office, where he's building the school's young music mogul program, he spent an hour or so with the composer Andrew Lippa, who was nominated for a Tony for his Addams Family score this year. Mr. Lippa was there with the Chicago attorney Fran Skinner-Lewis, who has run Clay Aiken's foundation. Mr. Rabhan, incidentally, has managed Idol contestants Kelly Clarkson, Elliott Yamin and, briefly, Mr. Aiken.
It was a fun meeting to watch. "I'm developing," Mr. Rabhan said, "a class on Jay-Z or Lady Gaga."
Mr. Lippa clucked his tongue: "That's amazing."
They exchanged stories about networking, and the composer told an anecdote about his assistant's career. "Connections," Mr. Rabhan nodded.
"Connect the dots," Ms. Skinner-Lewis said.
"Look at your pretty ring!" he told her. "I looked over and was like pow; the bling!" It was for her anniversary this year, she explained.
Then they got down to business. Mr. Lippa was there as a kind of delegate of the Johnny Mercer Songwriter's Project, a weeklong workshop for youngish adults at Northwestern. Mercer was one of the great Tin Pan Alley lyricists, but he was born in Savannah. "I'm from Savannah, too!" said Mr. Rabhan.
"If you haven't noticed," Ms. Skinner-Lewis sighed, "Rabhan is everywhere." His office is decorated with plaques for David Guetta and Kelly Rowland, Maroon 5, Ms. Clarkson and Jason Mraz, plus a Brett Ratner photo from a Jermaine Dupri book and two signed Henry Diltz photos of Kurt Cobain and Michael Jackson. The three were sitting by a wall with a Bruce Lee four-VHS set, a signed OBEY poster above a Nespresso maker ("that's the Limited Edition," he said on Twitter), a signed hockey Jersey, a Moon Man from MTV and books by Jeff Chang and Greil Marcus and Jim DeRogatis next to The Business of Artist Management, 4th Edition.
Mr. Lippa told a tender anecdote about a love song that one Mercer Project student wrote for another, a young man in the program whom everyone knew already had a girlfriend. And then she played it in front of everyone, including the dedicatee. It was very moving. "Rebuttal tomorrow," the young man said. He came back with a song in which he tells his girlfriend about this fellow songwriter. There was lots of crying.
"You are a masterful storyteller," Mr. Rabhan told Mr. Lippa.
So, would his N.Y.U. department think about hosting a wintertime Mercer workshop? Mr. Rabhan was really interested, he said, but money was an issue. "They want to try and generate income, always, at all times," he warned. "I'm not trying to be crass. I just want to be honest about the world in which we live."
"Of course," said Mr. Lippa.
"The realities of that are what they are," Mr. Rabhan said. Lady Gaga's Bad Romance's bass line, lacquered and unmistakable, thumped outside the door. "And that's not going to change."
Afterwards, he had a quick lunch in between that meeting and the one with Mr. Friedman. What were his thoughts on Mr. Lippa's pitch? "I'm not sure I have the bandwidth," he said.