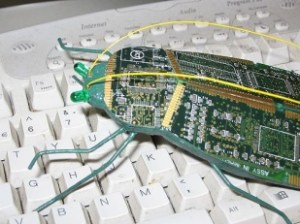 Soho based Bug Labs announced a major partnership today with Verizon Wireless. It's a huge opportunity for Bug, but founder Peter Semmelhack also felt he had some explaining to do.
In a blog post he wrote, "It may come as a surprise to you that a company that is so often vilified for being closed is teaming up with Bug Labs, a company that is defined by its openness. I was skeptical at first too. But over the past several months the teams we've worked with at Verizon have demonstrated time and again their commitment to supporting our mission."
Verizon's high margin landline business is shrinking. To solve that, says Semmelhack, the company must either, "Convince you to pay more for services on devices that you currently own (e.g. your phone) or get you to pay for services on new device types (e.g. iPad)."
Bug is providing Verizon with a kit that will allow developers to produce hardware prototypes quickly and easily. The idea is to have a sort of app store for hardware, with thousands of different gadgets on sale instead of dozens. And by outsourcing the process, Verizon is hoping to keep costs low.
The mission at Bug Labs is to empower folks to build all kinds of devices using their modular, open source hardware. Verizon is in this to make more money. Semmelhack thinks that, strangely enough, a partnership might be the best way for them both to succeed.