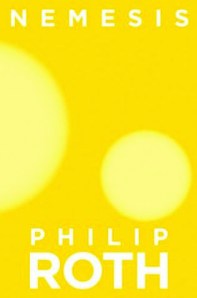 Nemesis, Philip Roth
Polio is the villain of Mr. Roth's 31st book, which returns to the Newark of his childhood in 1944. All of Mr. Roth's books of the past decade–since The Dying Animal in 2001–have been meditations on mortality, but his forays into the past, like 2008's Indignation, have been the most successful. The hero of Nemesis is Bucky Cantor, a 23-year-old playground director who must keep up the spirits of the neighborhood youth in the face of an epidemic that has felled even the president.
Griftopia: Bubble Machines, Vampire Squids, and the Long Con That Is Breaking America, Matt Taibbi
Mr. Taibbi, the foul-mouthed scourge of America's corporate overlords–he memorably called Goldman Sachs "a great vampire squid wrapped around the face of humanity, relentlessly jamming its blood funnel into anything that smells like money"–has been heralded as his generation's Hunter S. Thompson and by none other than Thompson's editor, Jann S. Wenner. Reading Mr. Taibbi at book length will either bare out this notion or else show him to be a snappily vulgar packager of left-wing talking points for Rolling Stone's frat-boy subscriber base.
The Masque of Africa: Glimpses of African Belief, V.S. Naipaul
In 2004, Mr. Naipaul declared, "I have no faith in the survival of the novel," implying that he would write no more fiction after that year's Magic Seeds. In 2007, he issued A Writer's People, an exercise in literary demolition with unflattering portraits of Derek Walcott and the late Anthony Powell. Now, turning his focus on witchcraft in Africa, he returns to the form for which he may be best remembered, contrarian travel journalism.
Luka and the Fire of Life, Salman Rushdie
Mr. Rushdie has appeared to be in retreat from his trademark contemporary globalized magical realism since 2005's Shalimar the Clown. Luka sees him return to the children's fairy tale, a genre he last visited in 1990's Haroun and the Sea of Stories, a book beloved by its adherents, published just after Mr. Rushdie had gone into hiding from the Ayatollah Khomeini's fatwa. That period will be the subject of Mr. Rushdie's next book, a memoir, which is the one we've all been waiting for.
Decision Points, George W. Bush
After two years of near silence, America's favorite unreliable narrator returns to tell the story of his two terms as the nation's "decider." No doubt the book will provide firm answers to such questions as: Why did we invade Iraq? Why was a budget surplus squandered into a gargantuan deficit? Why were the richest Americans delivered a decade-long tax bonanza? And why did the American economy collapse just as Mr. Bush was preparing to return to Texas?
Travels in Siberia, Ian Frazier
Mr. Frazier's road trip through Siberia, undertaken in 2001, have put to great use his descriptive powers, his sympathetic eye and his ability to weave history into an intimate personal narrative. Recently excerpted at great length in The New Yorker, the book sees one of our best journalists blazing a trail through trash-ridden roads, frozen former gulags and vast barren wastelands of one of the strangest places on earth.
How to Read the Air, Dinaw Mengestu
The Beautiful Things That Heaven Bears, Mr. Mengestu's 2007 debut, was hailed by The New York Times as "a great African novel, a great Washington novel and a great American novel." His sophomore effort is more expansive yet, following a son of Ethiopian immigrants who breaks with his own life in New York City to retrace the steps of his parents' journey to America, from Addis Ababa through the American South.
The Instructions, Adam Levin
Gargantuan, antic and relentlessly violent, Mr. Levin's 1,000-plus-page debut seeks to meld the tradition of the tough Jewish hero (from David and Goliath to the novels of Mr. Roth) to the sprawling, footnote-drenched metafictional epics of David Foster Wallace. It may be most remarkable for infusing the whimsy (the hero is a 10-year-old) of the McSweeney's set with a real sense of menace.
Inferno (a poet's novel), Eileen Myles
A denizen of the East Village and a mainstay of the downtown poetry scene, Ms. Myles in this autobiographical book charts her progress from the Catholic environs of Arlington, Mass., to the Manhattan of the 1970s, where she comes into her own as a poet (and a lesbian) and falls in with the likes of James Schuyler, Kathy Acker, Alice Notley and Ted Berrigan.
There's a Road to Everywhere Except Where You Came From, Bryan Charles
Mr. Charles moved from to New York to become a writer, but on Sept. 11, 2001, he found himself an office worker for Morgan Stanley in the World Trade Center. A novelist and music writer, Mr. Charles here mines a genre (the Midwesterner adrift in the city) perennial to our literature since F. Scott Fitzgerald, who never had to deal with falling towers.