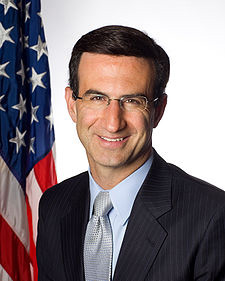 Even though he's left the Obama administration behind, former White House budget director Peter Orszag still finds himself in the unenviable position of preaching fiscal discipline amid a terrifying recession. Only now, he's doing it for The New York Times.
The issue at hand: faced with a ballooning deficit even by the U.S.'s typically profligate standards, Orszag believes that the expiration of the Bush-era tax cuts is vital to the medium-term health of the government's credit. Because spending cuts cannot sufficiently bring down the deficit to comfortable levels, the government has to raise taxes at some point, whether that's popular or not:
It would be tough, then, to squeeze more than a half percent of G.D.P. from spending by 2015. Additional revenue – in the range of 0.5 to 1.5 percent of the economy – will therefore be necessary to reduce the deficit to sustainable levels.
Orszag says tax reform and a value-added tax is an attractive policy option but a political impossibility, so extending the Bush tax cuts for two years and then letting them die is the best option. How he gets there is intellectually convincing but also a tough slog. Howevers and parentheticals make the column crawl, which is too bad because Orszag is offering what appears to be a pragmatic solution to a problem that everyone agrees is as grave — and politically intractable — as it is abstract.
More: Peter Orzag Makes the Jump From Tabloids to Broadsheet, Takes Up New York Times Column