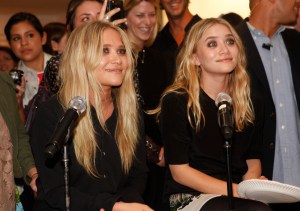 Will Mary-Kate and Ashley Olsen's One Morton Square penthouse finally be a full house?
According to city records, the identical-twin franchise has finally sold the oft-price-zig-zagging West Village apartment—which they never lived in—for $7.7 million, only $300,000 more than they paid for the "twelve room trophy" in 2004. Listed with Prudential Elliman's buzzed-about broker Jared Seligman, the apartment sold to a Two BB LLC.
The designer duo, whose Elizabeth & James clothing line took advantage of fashion week traffic with a pop-up shop nearby Morton Square on Horatio and Hudson, first tried listing the nearly 6,000-square-foot apartment for $11.995 million in 2007. After three brokerage swaps and a final asking price of $8.43 million, the $300,000 the twins made on the investment probably won't even cover the broker fees.