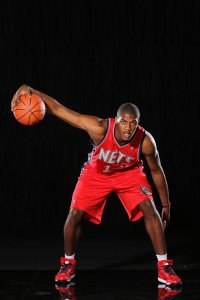 Textingly has scored the NJ Nets as its first big customer. The NY based startup launched as part of TechCrunch Disrupt last May. Erick Schonfeld reports the deal raised $400,000, more than half of the $750,000 goal in Textingly's seed round.
The Nets will be using Textingly to manage trivia games and ticket giveaways that fans can play by mobile phone. Textingly layers some fairly standard ideas on top of this: fans can accumulate points and collect rewards, different messages and prizes are available in different areas, and users can scan through the messages left by other fans.
Textingly founder David Dundas has previously worked at You Are TV, Social Cord, and mobile startups like Thumbplay and Flycell. At the Disrupt panel last year Dundas talked about the ways in which businesses could engage in a detailed two way conversations with their customers by text. Textingly users, for example, could use their phones to find out how long the line was at their favorite restaurant or movie theater.
Hopefully the "Niets" new owner will move them to Brooklyn soon, making this deal a real local win for NYC.