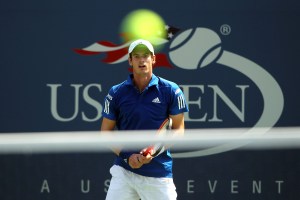 The first week of the Open is a challenge for reporters to develop a big-picture narrative when there isn't much of a story yet–unless there's a major upset, not much to report. Nevertheless, I was confused to see Melanie Oudin get such big play on Tuesday morning after her first round victory. Yes, she was the star here last year. Yes, I argued last year that she (and Kim Clijsters) saved the U.S. Open in 2009. But her performance this year–a dreadful 1-11 record this summer–suggested there wouldn't be much magic.
That magic carpet ride of '10 came to an early end today with a straight sets loss to Alona Bondarenko.
In other matches today: Venus Williams struggled early on, but won in straight sets over a tough-as-nails Canadian Rebecca Marino. Andy Murray won today–a guy that Out's Aaron Hicklin told us today that he is rooting for–in three easy sets, despite the heat! He said the wind made it a bit easier out there. "Honestly, I don't find it that bad on center today," he said. "It was hot, but the wind–it does get a lot breezier on that court than the outside courts."
The big story tomorrow will no doubt be about 18-year-old Ryan Harrison who defeated Ivan Ljubicic. It's his first Open and he handled it well.
Also, the lineup got a bit easier for Ana Ivanovic. Marion Bartoli lost today to another Frenchwoman Virginie Razzano who'll be Ivanovic's next opponent.