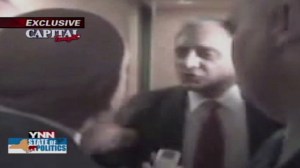 After last night's throw-down with NY Post Albany bureau chief Fred Dicker, the Carl Paladino campaign is out with release today with the subject line, "Paladino camp on Carl protecting his family."
The release states, "The New York Post sent a photographer to the Buffalo home where Carl Paladino's 10-year-old daughter lives with her mother. This photographer attempted to take photos of the child through the windows and subsequently attempted to follow the girl to a playground" and goes on to state that while Paladino is passionate about cleaning up the mess in Albany, he is more passionate about protecting his family.
"This behavior by The New York Post and their senior political editor Fred Dicker is unacceptable," Paladino campaign manager Michael Caputo states.
He goes on to note a series of ways in which he thinks Dicker is guilty of biased coverage:
On September 17th, Mr. Dicker wrote of Cuomo's "tax and spending cut plan," although Mr. Cuomo has proposed no tax cut and no spending cut. Rather, Andrew Cuomo proposes to "slow the rate of growth of taxes."
When Andrew Cuomo's campaign charged Carl Paladino with receiving millions of dollars in state leases, Mr. Dicker failed to note that Andrew Cuomo or his Democratic predecessor reviewed and approved all of Mr. Paladino's leases.
When Mr. Dicker attacked Paladino campaign chairwoman Nancy Naples, for awarding bond underwriting to an underwriter active in the Conservative Party, Mr. Dicker failed to note that the Comptroller who succeeded Nancy did the very same thing and Nancy was never accused of any improper conduct.
Caputo goes on to state that "Andrew Cuomo is on Fred Dicker's speed dial," and asks Dicker to ask Cuomo if he had any extra-marital affairs.
And he explains away Paladino's' comment about "taking out" Dicker last night by noting that it is a phrase Paladino uses often:
Mr. Dicker gets extra Cuomo Brownie Points by claiming Carl threatened him. Carl has used this exact word choice throughout this campaign and several times on Mr. Dicker's radio show: he'll take out this government. He'll take out the bad guys. He'll take out Sheldon Silver.

Carl feels the same about Mr. Dicker, who is the best example of the cozy relationship some media have with the ruling elite. This is part of the problem in Albany, and Carl will take out the trash.
The release ends by stating that Paladino has returned to Albany to console his daughter.
Meanwhile, Post editor-in-chief Col Allen responded by denying the charge that they sent a photographer to Paladino's house, and arguing that Paladino has invited the scrutiny:
Paladino spokesman Michael Caputo's claim about our photographer is untrue. We can only assume Mr. Caputo is confusing our photographer with someone else. Mr. Caputo should check his facts before making charges against Post personnel. In addition, Mr. Paladino should not be surprised by the media's interest in his families, as he has invited public scrutiny of his personal life by running for governor and speaking openly about his mistress and love child.
As Maggie Haberman notes, it's probably not the best idea to take on The Post, since the paper is hugely influential and probably the only one in the state that would get behind Paladino's campaign.