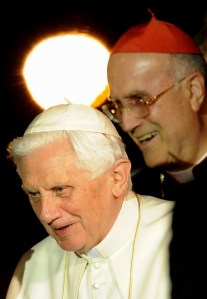 The Financial Times is reporting that the Italian finance police have seized 23 million euros and begun investigating the Pope's top two bankers in a money-laundering probe.
The Pope's bank, called the Institute for Religious Works, is headed up by Ettore Gotti Tedeschi, formerly of Spain's Banco Santander. Tedeschi is also a professor of ethical finance, according to the FT. "According to sources close to the Vatican," the FT says, "one of his main mandates was to bring the bank in line with international norms and regulations on tax havens and money laundering." Institute for Religious Works general director Paolo Cipriani is also under investigation.
A papal money-laundering beef. It sounds odd, but it isn't the first time the Pope's bank has been caught up in some nasty-sounding, suspicious affairs.
Update: In addition to expressing surprise at the investigation, the Vatican said, "It is well known that the authorities of the Holy See have frequently manifested a clear desire for full transparency regarding the financial operations of the Institute for Works of Religion," in a statement sent to Bloomberg.