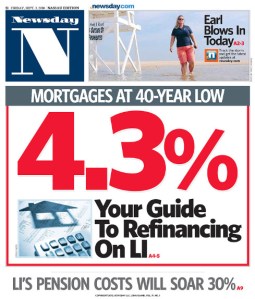 New York One's man in the papers (and Justin Bieber look-alike) Pat Kiernan doesn't like the cover of Newsday today. He would like to see something a little splashier.
"Newsday's editors have lost their minds," wrote Mr. Kiernan on his Pat's Papers blog this morning. "With Hurricane Earl barreling toward the eastern end of the paper's market on Long Island, the paper's choice for its front page headline is 'Mortgages at 40-year low.' Huh?"
Mr. Kiernan prefers the cover of the New York Post, with its apocalyptic weather graphic. We're partial oursevles to the Post's headline inside: "Earl's Gone Wild."
But isn't the weather the best reason to lose one's mind? Time Inc. sent a hurricane readiness memo to its staff earlier this week. So far it's a beautiful day in New York City.
Read: Storms A-Brewin'! Time Inc. Employees, Moor Your Boats