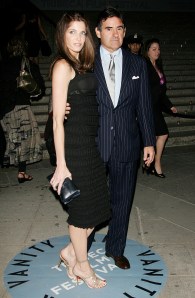 The divorce, up until yesterday, was a bit on the ugly side.
Peter Brant — the billionaire publisher of Interview, he of broad renown on the polo fields of Greenwich who would wrangle extravagant commissions from artists such as Jeff Koons — accused his wife of many things. She was a Vicodin addict, she was a thief who snatched Warhols and pricy watches and she was unfaithful. Also, she ransacked their Palm Springs mansion for china, silk and multiple chandeliers, and took them to her new home.
Stephanie Seymour — the former Victoria's Secret icon, she of Vogue covers and Playboy spreads, who had flings with Axel Rose and other wild ones — accused her husband of many things. He was a duplicitous and controlling father, he changed the lock combinations on their safes, turned their children against her and installed a tracking device in her car. Also, he took 44 of her Warhol paintings, and a few of her Basquiat drawings to boot.
But all the bad blood has been wiped away, seemingly out of nowhere. Yesterday, the mogul and his supermodel wife have reaffirmed their marriage in a Middletown, Connecticut court. The New York Post is reporting that the two "cuddled" outside of the courtroom where they both signed papers voiding all complaints they had against each other.
Judge Lynda Munro, who presided over the hearing, claims she sensed an eventual forgiveness from husband and wife all along. "After the first hearing, I thought you were going to reconcile, and I'd forgotten about it," she told the Post. "So that's interesting. Of course, good luck. Always the better choice."
The divorce proceedings had been going on for a year and a half, a tumultuous time that leaves in its wake 12,000 pages of documents, millions of dollars in legal fees, and wreaked emotions for all involved parties, including their three children.
The jet-setting, highly social couple were married 15 years ago. The service were held in Paris, with Naomi Campbell as the maid of honor and stars such as Robert De Niro in attendance.
With their vows renewed, we wish the Brants the best of luck! And we sincerely hope the reconciliation was truly for genuine reasons: Peter Brant and his wife did not sign a prenup, so a divorce would have hit his wallet as well as his heart.