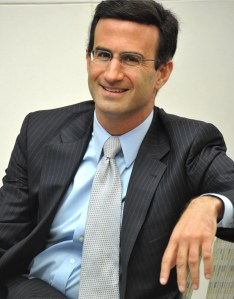 Page Six leads today with news that former White House budget director and current Times columnist Peter Orszag will wed ABC News anchor Bianna Golodryga at Capitale on the Bowery tomorrow, and a few of his former co-workers will apparently be forced to miss the event.
According to the Post, David Axelrod, Valerie Jarrett and Rahm Emanuel have all turned down their invitations. Also according to the Post, the motivation behind this was a column he wrote from earlier this month supporting an extension of the Bush tax cuts that the Obama administration opposes.
There are a variety of reasons that Mr. Orszag's White House work buddies wouldn't be able to attend his wedding, so this is excited political angle is pretty cutting, even for the Post. And reporters used to be so generous with Mr. Orszag.