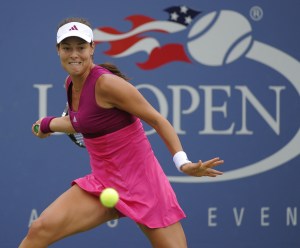 Here she comes!
I called her a spoiler and a sleeper, and now she'll get a date for a fourth round match on CBS in Ashe against last year's champ, Kim Clijsters.
Ana Ivanovic defeated Virginie Razzano this afteroon 7-5, 6-0, and she's gotten to her farthest spot at the Open since 2007.
In that match, Ivanovic was annihilated by Venus Williams playing in front of a full-house on Ashe on Labor Day weekend on national TV. She was overwhelmed by the moment, and though she would go on to win a French Open, her collapse from world's no. 1 to no. 40 was clearly foreshadowed in that match.
But this Ivanovic has been slowly creeping through the draw, and after tumbling out of everyone's mind, this one has confidence. And…
"I'm going out there and I have nothing to lose," she said. "I have that excitement of, you know, competing against such a champion."
That can be potentially scary. These are arguably the two nicest players on tour, so we're thrilled to see the two will be going up head-to-head.