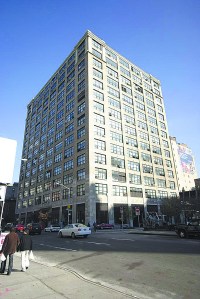 250 Hudson Street
The proliferation of bad news in corporate America has proven good news for PR giant Edelman. The company will take an additional 27,000 square feet at 250 Hudson Street.
Edelman's clients include Kraft, Apple, Starbucks, WalMart and the Falkland Islands, to name a very few. It will occupy a total 168,000 square feet in the building, which features an environmentally friendly green roof that we can only assume is good for PR.
Edelman has increased its staff by 30 percent, to nearly 600 people, as of this month. It reportedly loves the Soho spot, which it moved into a year ago, because it allows the staff to rub elbows with its bestest friend, the media. "There are a lot of media companies down here, and there's lots going on," Robin Callif, the firm's local chief of staff, told Crain's.
Asking rent was around $43 a square foot for the 14-year deal, which is set to expire along with the company's other leases.
Mary Ann Tighe of CB Richard Ellis represented the tenant, along with Ken Meyerson. Landlord Jack Resnick & Sons was represented in-house by Dennis Brady and Jonathan Dean.