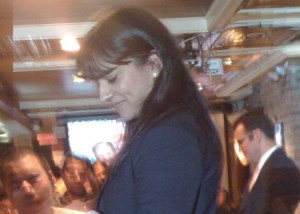 For a little over two hours on Tuesday night, supporters of Reshma Saujani sipped their drinks and kept an anxious eye on the stairwell.
"We are going to judge her on her performance in Congress," said Ali Hayat, one of about 100 Reshma supporters packed into the upstairs of the Press Box sports bar on Second Avenue for a party that ostensibly started at 9 p.m. "Not getting to the bar late."
As the time dragged on with no sign of the candidate, James Allen, the communications director for Saujani's campaign, said she was in a hotel with her family watching the results. He said he did not know what time she was planning on attending.
"Where we were targeting in Queens had a much higher turn out than we expected," Allen said. "We were able to bring a lot of people into the process who typically don't vote in an off-year, low turn-out primary."
But those atypical voters weren't nearly enough to overcome two decades of incumbency, as Congresswoman Carolyn Maloney piled up 80 percent of the electorate against her young challenger.
Sleepy supporters rested their heads and empty glasses on the furniture while the Saujani's results climbed into the high teens.
For all the press Saujani's challenge generated, the final count was typically overwhelming: Maloney, 81 percent; Saujani, 19 percent. Maloney received 26,3030 votes to Saujani's 6,231 votes.
"The people here don't care about the outcome," said Shelia Mehta, a friend and supporter of Saujani. "We believe in her and what she wants to do."
What exactly she wants to do remained unclear, even to her supporters, with Saujani hinting in a previous debate that her goal of toppling Maloney and becoming the first Indian-American woman in Congress wouldn't end with a loss on primary night.
At 11:35 p.m., Saujani finally appeared before her crowd of suits and Reshma T-shirts, and spoke from notes written on a complimentary hotel notepad.
"Today was the best day of my life," Saujani yelled as she stood on a chair in the middle of the bar. "I don't want people to think that because we didn't win today doesn't mean we won't win tomorrow."
As Saujani listed the many people she wanted to thank, she paused to joke with one of her consultants. "Maybe if you spent less time drinking champagne and raising more money…" said Saujani, who generated considerable early press for her campaign by raising tens of thousands of dollars from an Upper East Side crowd that admired her personal story as the daughter of political refugees, and appreciated her Wall Street experience, during a time when the industry has come under heavy criticism.
At the end of her speech a voice from the crowd shouted, "Are you going to run again next year?"
A masculine voice shouted back, "Yes," and Saujani laughed. The same voice followed with, "Let's party."
After the speech, Saujani declined any further inquiries on the subject, saying she wanted to talk to her friends before they left.