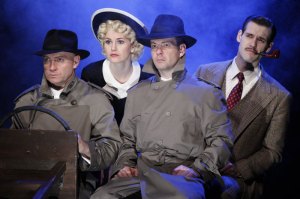 Theater
Celebrate (un)official Alfred Hitchcock month by catching the long-standing and much-lauded The 39 Steps (New World Stages, Monday, Wednesday through Sunday) now Off Broadway and with a new cast. Another bonus: During September, anyone who is 39 years old and presents a valid ID will get a free ticket to the show. Now that's a deal even Mr. Hitchcock himself would appreciate.
Floating Kabarette at Galapagos Art Space,16 Main Street, Dumbo, Brooklyn has burlesque and magic (Saturday, 10:30 p.m., $10).
Perennial favorite The Lion King is for big kids too (Minskoff Theater, Thursday and Friday, 8 p.m., and Saturday, 2 p.m., 8 p.m.).
Unison Fetish (opposite Magnolia Bakery, Saturday and Sunday, 3 p.m. and 5 p.m.) combines cupcakes and choreography.