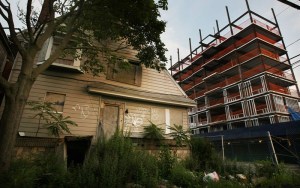 What if there were an easy way to figure out all the empty buildings and lots in the city and put them to a better use, like housing the homeless or pushing down the city's exhorbitant real estate prices? Advocates, led by Picture the Homeless, think there is, in the form of a census, which would help identify such properties and figure out what to do with them. The group held a rally yesterday for the census, which is currently under consideration by the City Council.
According to the Gotham Gazette's Wonkster blog, Council Speaker Christine Quinn was none too keen on the plan:
"Collecting that data is enormously expensive," Quinn said, putting the cost at "millions of dollars." In tough fiscal times, she added, "that money may be better spent assisting the homeless."
It's a fair point, but Picture the Homeless argues a census can be achieved for less than $50,000. The Real Estate Desk wonders if this doesn't have less to do with serving the homesless than serving developers, though. From WNYC:
The Rent Stabilization Association, a landlord group, says the Cenus Bureau already produces a housing and vacancy survey for the city. A spokesman questioned whether a new census is necessary.
Indeed, Manhattan Borough President Scott Stringer (a mayoral hopeful, like Quinn), has been calling for a similar census for some years, as he hopes it will put an end to the practice of "warehousing," whereby developers sit on vacant or underused property. The idea is not to build until a greater profit can be made, but it also means there are fewer apartments — not only for the homeless but for all New Yorkers, thus driving up prices for everyone.
The census has support from nearly half the council, but until Quinn is prepared to bring it to the Housing Committee, it is unlikely to get there.