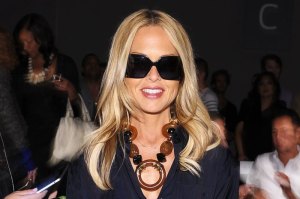 Having seen an episode or two of The Rachel Zoe Project in our day, we were pretty sure we had Ms. Zoe figured out: her Fashion Week is all running around, no time to sleep, no time for her lovely husband Rodger. But at Prabal Gurung today, all our conceptions were turned upside down! For starters, Rodger was right there with her (and her associate Brad Goreski), patiently waiting for the show to begin. And Ms. Zoe looked perfectly calm, beautifully accessorized in an oversized statement necklace, not a hair out of place. (She was also wearing what she claimed were eight-inch platforms — and we believed it.) How early did she have to get up to make that happen? "Not early at all. Yeah. Not early at all. I got up early, but I didn't start getting ready until an hour before I left," she said.
So she didn't plan the outfit ahead of time? "No, no, no. I plan it five minutes before I leave!"
We, on the other hand, had to wake up at the crack of dawn just to get to the tents on time looking presentable — but that, we suppose, is why Ms. Zoe is a respected professional stylist and The Observer is not.