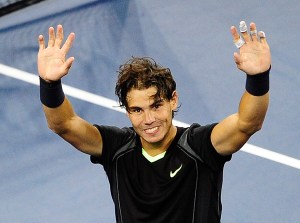 Rafael Nadal is thisclose to the Men's Final after making quick work of Fernando Verdasco in straight sets in the quarterfinals tonight.
Going into the match, Nadal had not lost a service game. Well, Verdasco broke Nadal very early in the first set, and that was literally the only break point he would see for the rest of the night. It was a dominating performance, and Rafa has yet to drop a set at the U.S. Open. It's the best he's ever looked, and Rafa admitted as much afterwards.
"I am fresher because I know how important is the US Open," he said.
Rafa will take on Mikhail Youzhny in the semifinal. If Rafa doesn't get past Youzhny it'll be a stunning Saturday result. Youzhny defeated Stanislas Wawrinka in a long, five-set match that was, admittedly, a little exhausting to watch. It had about all the excitement of a bronze medal match. It felt, frankly, like The Battle For Who Gets To Lose to Rafa.
This week in tennis has been disappointing when it comes to drama. Roger and Rafa have dominated, and Venus and Clijsters have had momentary scares, but all the favorites are here. Relatively boring tennis in the beginning of the second week only works if there's great tennis in the final few days. It begins Friday at 1:30 p.m. with the women's semifinals.