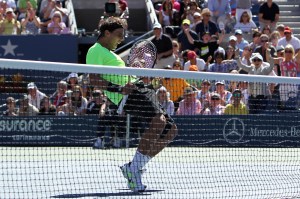 The only exciting moment of the Rafael Nadal and Mikhail Youzhny semifinal this afternoon was the moment it ended. Nadal, for the first time in his career, is in the U.S. Open Men's Final. Nope, no 4th round hiccup against David Ferrer. No, no semifinal loss to Andy Murray. No "broken abdominal" that leads to a total thrasing at the hands of Juan Martin del Potro. Just toal elation for Rafael Nadal.
Rafa is playing, arguably, the best tennis of his life. He hasn't dropped a set. He's lost only one service game. This is all at a court he's never even liked. He is ready for a Final. He's gotten comfortable. His onetime ambivalence toward night matches has been wiped away. His discomfort for this court is wiped away. Yup, now he sings Lady Gaga songs during a changeover.
And with his triumph finally reached–getting to that elusive seventh match at the Open–he's showing a whole lot of love toward New York.
"You make me feel like home every day," he said after his match. "I arrive at the New York one week before the tournament and you make me feel unbelievable."
The crowd loved it. Rafa has given us his roar. He's given us his best tennis.
He's done everything we asked. Now it's up to Roger Federer to go one more step, and then we'll let those two settle out tomorrow afternoon.