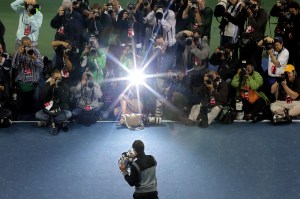 After two long weeks of hype, it is over: Rafael Nadal has won the U.S. Open. In his ninth career Grand Slam victory, and his first victory here in New York, Rafa defeated Novak Djokovic 6-4, 5-7, 6-4, 6-2 in a match that started at 4:21, and ended just after 10 p.m. There was a two-hour rain delay that cleared out roughly half the already diminished attendance for this Monday final, and forced CBS to abandon its coverage mid-match. The atmosphere for this evening was, to say the last, bizarre.
But to Rafa, this matters little.
Rafa blitzed his way through his draw and didn't lose a set until a couple of hours ago. His serve–somehow–topped 135mph during his Open run, and hit as high as 132mph today/tonight. Incredibly, he seemed to get better as the tournament progressed. For player who was once exclusively a clay court specialist, and then became a master of the Wimbledon grass, he has finally figured out the fast courts and the lighter balls of Queens. Potential: Unlimited.
"He has the capabilities already now to become the best player ever," said Novak Djokovic after tonight's match. "I think he's playing the best tennis that I ever seen him play on hardcourts. He has improved his serve drastically. The speed, the accuracy, and of course his baseline is as good as ever."
Rafa played a beautifully clean game of tennis tonight. He had 49 winners in the match versus 31 unforced errors and had 8 aces. At some point late in the third set, Novak looked absolutely spent, and began to do his best Week 17-Late-In-The-4th-Quarter Brett Favre impression. He went all for broke on his forehand and backhand which resulted in some pretty amazing screaming winners, and, mostly, a lot of unforced errors (he had 47 for the match). Rafa was only 6 of 26 for break point chances, which is a not-very-hot 23 percentage, but look at that stat again: He had 26 break point chances! Rafa's variety was breath-taking. Even though that slicing backhand was failing him at times, he went back to it over and over again; it began to work. Then, out of nowhere, he would be thrown to some far-reaching corner of the court where Brian Earley was probably standing, and would hit a line drive two-handed backhand winner down the line. It was pretty amazing to watch.
His play tonight, and his performance over the last two weeks is mostly a huge relief. Roger Federer was officially dethroned of his crown in Queens last year, and he would not return to the U.S. Open Final this year–the first time since 2003. We knew going in that we were on the brink of a changing of the guard, and we wanted our New Guy to be Rafa. But it's always been injuries (the knees! the "broken abdominal"), the mind (those damn Olympics!) or the courts that have held Rafa back. He said he didn't like playing late at night here. He certainly never seemed at home in New York.
This year that all vanished. By the second round, he was soaking up night matches. By the fourth round, he had his warm-up jacket zipped down momentarily for a post-match interview well past 1 in the morning. The crowd chanted cat calls. He smiled that adorable smile and loved it. During a changeover, he mouthed the words to Lady Gaga's Bad Romance. He was happy and playing better than ever.
Most significantly, he burned, and fought for every point. As Mary Carillo told me before the tournament, that's all you need to do to tickle us. That great tennis he has displayed in Paris, London and Melbourne? We finally go our own taste of it. Considering that this was his last Grand Slam to win, it almost made it all the better. There was nothing even remotely Na-Dull about this performance. If Roger Federer is truly entering the twilight of his career, we're happy to be right behind you, Rafa. This was a beautiful thing to watch.