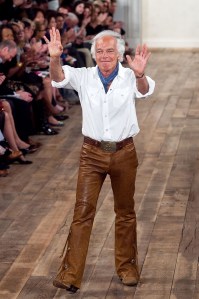 Yesterday morning, Ralph Lauren held his show at Skylight Studios in Soho, far away from the tents at Lincoln Center. The front row was peppered with the heads of the city's magazines — Anna Wintour, Graydon Carter, Adam Moss and Stefano Tonchi, to name a few — as well as members of the Lauren family.
Once the show began, models in swaths of tanned leather, frills and oversized bullhorn belt buckles trotted underneath the chandeliers. The entire show seemed hyper-conscious of its Western feel, especially as the shiny twang of Bob Dylan's "Everything is Broken" flooded the space with a sense of American nostalgia.
We caught up with Mr. Lauren immediately following his glad-handing of the audience, and found him dressed in a tucked-in button-up, gold-brown leather pants and boots, and an outlaw-style necktie. "I feel strong about the American roots," Mr. Lauren told The Observer, before rushing back to his family and friends.
On our way out we ran into André Leon Talley, who had by now ditched the overcoat in favor of a three-piece number. Again, he recognized us.
"Oh, you're the blogger," he said, dragging out the word like it was a trend that went out, like, a whole season ago.
Mrs. Lauren walked up to us. "Oh, hi-eeee!" Andre exclaimed upon seeing Ralph's wife, Ricky. She was dressed head to toe in her husband's most recent collection. "Everything that looks like you was perfect!" Mr. Talley said to her, pecking her on the cheek. "Everything that looks like you was perfect. Perfect! Perfect!"
"Oh, thank you, thank you," Mrs. Lauren said.
"It was beautiful — beautiful," Mr. Talley told her again. "You look lovely. Fringe is one of my favorite things!"
André turned back to us.
"I love Ralph Lauren because Ralph Lauren is a quintessential master of American elegance," he said to us. "It's an attitude of dressing. And this season it's about the fringe, and about being in the wild, wild, West without being a cowgirl."
With that, Mr. Talley walked outside, where two of Mr. Lauren's very svelte models were smoking cigarettes surrounded by an army of cameras.