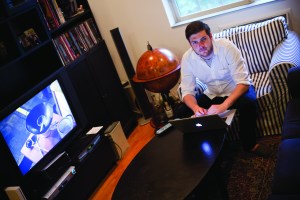 Last month Jerry Saltz, the art critic and judge on the recently finished first season of Bravo's Work of Art, praised the practice of TV recapping in an essay posted to his popular Facebook profile.
"WoA provided an unintended occasion where many of them wrote on the SAME THING AT THE SAME TIME," the post read, in part. "This is where writers are finally forged; not in the pages of glossy journals or daily unedited personal tirades: But where the voices of the town square become part of the group mind."
All the same, recent Columbia graduate Hillary Busis, who recapped the show for The Wall Street Journal's Speakeasy blog, wasn't thrilled to engage the group mind when she learned that Mr. Saltz himself would be providing recaps for New York.
"When I saw his first post I was like, 'Oh, people will care a lot more about what he's saying than about what I have to say,'" she said.
The rise of the Internet television recap has been an inevitable side effect of a medium that allows for instant reactions, favors a freelance model and realizes that the winner of a reality show will dominate Google searches on the day following a season finale. Many sites, Entertainment Weekly's for one, offer straightforward play-by-play summaries of a show for people who haven't watched, but nearly every major publication and journalistic blog now offers some form of instant analysis of popular shows. Slate and Vanity Fair, where James Wolcott offers a Mad Men post-game, are two of the less likelier spots that have joined the recap game. New York currently employs some 30 writers to cover as many shows.
Then there are the sites where recaps take the main stage, like the NBC-owned Television W ithout Pity, whose editors work right out of 30 Rock. That site is home to Jacob Clifton, who has become known for his sprawling 27-page recaps of shows ranging from American Idol to Doctor Who.
"It's a performance," said Mr. Clifton, who lives in Austin, Texas, but has gained a reputation among New York editors. "Not to compare myself to anybody else but my image of myself has always been sort of Derrida or somebody, Barthes, in a shop window being like, 'Well here's what the story's really about.'"
The rise of the recap was swift. Jessica Coen, the editor of Jezebel who has also worked as an editor at Gawker and New York, views the current model as dating back to Gossip Girl, a show that Gawker began recapping in part because it provided the opportunity for a reliable hit-garnering weekly feature.
"It's got a lot of smart little pop culture references, it kind of plays with viewers. It talks back, it's aware of what people are writing about them. The OC was kind of the original Gossip Girl," said Ms. Coen, who wrote about that show on her own blog before coming to Gawker. "This was when blogs weren't huge for-profit enterprises just yet. Everybody recapped The OC, everybody talked about it."
Compare that to today, where stand-up comedian Max Silvestri says he has three friends who are paid to recap Top Chef alone. Mr. Silvestri is currently at work on a pilot for Comedy Central and pens frenetic recaps of Top Chef himself, for the food blog Eater. "I guess I've now done three or four seasons?" he said. "Maybe five. Jesus, such a waste of time."
"It's great for the audience of the people that watch your show but then you're spending four hours on a freelance humor piece that has a very small market of people that are going to read it," Mr. Silvestri said. "I always sort of struggle with that. I'm like, 'Why am I doing this?' 'Why aren't I writing something that's a little broader?'"
But for young writers hoping to get a foot in the door, the increased demand for recappers can only be viewed as a good thing–after all, it's a paycheck and it beats, say, fact-checking, being a paralegal or waiting tables in terms of literary gratification. Ms. Busis, who now recaps Mad Men in addition to Work of Art, recalled when her editor at The Wall Street Journal offered her a freelance Gossip Girl post, unsolicited.
"I don't really remember how he knew that I watched it but I wrote back right away and I said, 'Sure,' because it sounded awesome since I was going to be watching it anyway," Ms. Busis said. "Then all the sudden I got another email saying, 'Can you be our regular Gossip Girl recapper?' and I was like, 'Sure.'"
Gawker's Richard Lawson is something of a posterboy for this kind of online Horatio Alger narrative. He worked in Gawker's ad sales department but through the strength of his comments on the site secured a writing job and is now the go-to name in online television recaps, distinguishing himself with his playful extra-narrative adventures for the shows' characters.
"I think it's an accidental byproduct of my being able to kind of just go a little bit nuts with the recaps, because they were never supervised and they weren't edited or anything," Mr. Lawson said. "I get to showcase a lot more of me as a writer than you can see in a short post about Marc Jacobs or whatever."
"Richard's an incredible talent," said Choire Sicha, who edited Gawker when Mr. Lawson was first published there. "And in this weird change or whatever that we're still now in, the world has to accommodate talents like Richard's."
And Mr. Lawson's name is on the lips of publishers. He's had meetings with people at a "big agency" but struggled in translating his voice to a comic novel format. Mr. Clifton has found the vaccum of working without commenters difficult– he's close with his, a handful have even come out to him via email–and has serialized all four of his novel efforts online.
Right now, the career path of the TV recapper is largely undetermined. One would think that the job would lead to a career in traditional television journalism.
"But of course how long is the kind of more formal, old-school criticism going to be around? Or is this just going to take over?" asked Times TV critic Ginia Bellafante — who, incidentally, recaps Mad Men for the paper. "I certainly hope it doesn't, but how viable is a TV critic's career anymore?"
Mr. Lawson had a taste of this. He left Gawker in 2009 for a new job at TV.com, a more mainstream Web site owned by CBS, before returning to Gawker after five months.
"I did these depressing phone interviews with TV actors and I was one of twenty they were doing in an hour," Mr. Lawson said. "But that's good; I mean you would have to cut your teeth there to become the next Virginia Heffernan or whatever."
Ms. Bellafonte attributed the proliferation of recapping to a fundamental change in the TV medium. "I think it is a confluence of the popularity of blogging in general and the nature of TV now," she said. "TV is longform. Even if blogging had been all the rage in 1988 there wasn't as much to say."
Mr. Sicha has taken a public anti-recap stance, banning them from his site, The Awl. "We broke the ban once or twice," he said. In addition, the site has run Natasha Vargas-Cooper's "Footnotes to Mad Men." "Natasha found a way to go in sideways and started her own Tumblr–then we're like, 'Hmm, yes! Come to us!' Now she has written a sort of profound book of cultural studies about a TV show, based essentially on a Tumblr? That's new."
Mr. Sicha isn't sure how long the traditional model of criticism, like Mr. Saltz', will exist. He pointed to Bravo's new watch-along iPad app as an example of this. "They're turning all of their viewers into recappers!" he said.
Ms. Busis, for her part, intends to continue freelancing her recaps. When asked if she gives any considerations to a show's popularity–as getting in on the ground floor of a show that becomes a hit could lead to a higher profile–she said she doesn't.
"I didn't really think that Work of Art would take off, and it didn't, but I would have been watching it either way," she said. "I mean my thinking was, 'It's summer.' What else are you going to do, right? Nothing else is on."
dduray@observer.com