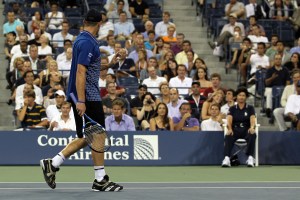 Andy Roddick threw a tantrum. He did it in the third set after he had been–correctly–called for a foot fault. He asked the lineswoman if it was his right or left foot that hit the line. The lineswoman said it was his right. In fact, it was his left, so Roddick decided to make a federal case out of it.
It looked like it was his Serena Williams Foot Fault moment. But since it was in the third set–and far, far away from the situation that Serena faced with her match riding on the line–there was something that seemed gratuitous and irritating about his complaints. Something that seemed a little less spectacular than Serena's meltdown, and a little more grating.
What was odd about the foot fault was Roddick's fixation on it. Even after the match ended, he still couldn't give it up. He slammed the table he was seated at in Media Room 1 when it was brought up. He said if the lineswoman told him it was his left foot, he would have been fine–just fine–with the decision.
"There would have been no discussion," he said. "There would have been zero discussion. There was two [foot faults] after that. It was the fact that I couldn't get her to admit that it wasn't the right foot just infuriated me beyond…"
He trailed off.
The point is it doesn't matter. Not to the big picture. Roddick would lose the match in four sets, and so, here is yet another disappointing performance to put in the Big Book of American Disappointments Since the Era of Sampras-Agassi.
I think it's tempting to say "Andy Roddick ran into a wall tonight." And give credit to Janko Tipsarevic, sure. But this keeps happening to Roddick. It happened to him last year against Isner in the third round. It happened in 2005 in the first round. At this pace, we basically can go into every Open expecting as much out of him as we do Lleyton Hewitt.
This means that in three of his last six Opens he has been knocked out in the first week. The first week.
Did he feel like this was yet another opportunity lost?
"Tonight I felt like the guy earned it," he said. "That's probably easier to deal it, when you make the guy earn it and he comes up with the goods. Still not fun obviously."
No, not fun, and yet another excuse. The bottom line is another guy shouldn't earn it in the first week. Roddick should just win it.
When Roddick left the court tonight, and entered the tunnel inside Ashe, I was there waiting for him. He didn't curse. He didn't meltdown. He was just wearing a Lacoste baseball cap backwards looking cranky like a spoiled tennis club kid. Unfortunately, we've all seen this face on Andy before at the Open. It's exhausting to watch. And still not fun.