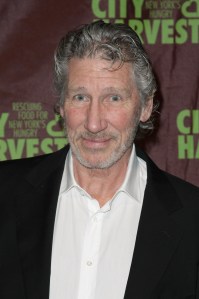 Roger Waters' latest solo tour "The Wall Live" has drawn the ire of the Anti-Defamation League, which on Tuesday accused the former Pink Floyd singer of anti-Semitism because a video that plays during the concert shows Stars of David falling from a Dr. Strangelove-like bomber. The icons are among numerous others, including a crucifix and a Shell Oil logo, and today Mr. Waters responded to the accusations on his Facebook page.
"The point I am trying to make in the song is that the bombardment we are all subject to by conflicting religious, political, and economic ideologies only encourages us to turn against one another, and I mourn the concommitant loss of life," he writes. He also says that, being from England, he's never heard of the ADL — if you haven't, their recent greatest hits included opposition to both the mosque near Ground Zero, and the Florida preacher who threatened to burn those Korans.
The Post touted the accusing press release's hypothesis as a headline, throwing the enigmatic ": ADL" in afterwards. It really is a shame that Mr. Rogers opted to do this via the Facebook "notes" feature rather than on his wall. That would have at least given the less creative editors a better headline.
"The Wall Live" comes to Madison Square Garden next week. Looks like the ADL may be in on the ground floor of a nice little fake controversy!
[h/t The Awl]