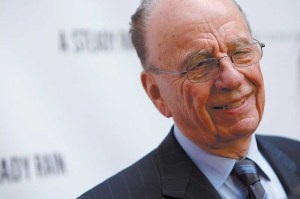 Rupert Murdoch just can't catch a break. While his aging back is ready to give under the weight of his billions and his massive influence over American political discourse, he must also shoulder the burdens of being subject to phone-hacking scandal-related legal action by no less than Sienna Miller. The Telegraph with the low-down:
Lawyers for the actor, whose private life has long been a tabloid staple, said she was ready to join the former deputy prime minister John Prescott and others in asking the courts for a judicial review of the police's conduct of the case.
News of the World allegedly listened to Miller's voicemail. Murdoch's paper was, according to the Telegraph, targeting Miller 4 years ago. Since then Sienna Miller has won at least one go-round with the paper, receiving damages and basically admitting they were wrong for poking about in her private affairs.
In this case Rupert Murdoch is in good company–no less than Scotland Yard is in Miller's doghouse too. The police force had evidence that Murdoch's paper was eavesdropping on Miller in 2006 but chose to inform the actress 3 years later. Her lawyer told the Telegraph they are waiting for 'an explanation' as to why she was not warned earlier.