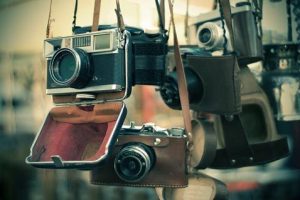 106 East 23rd Street
Such is the irresistible power of nostalgia that the analog camera, which seemed only recently a clunky relic of '90s road trips, is back.
Lomography, a niche retailer offering pre-digital cameras, accessories and processing services, will open its second New York location at 106 East 23rd Street, between Lexington Avenue and Park Avenue south.
The new, 2,400-square-foot space joins its other local spot at 41 West 8th Street, in Greenwich Village. The company has 14 international locations.
If the charm of blurry photos with awkward facial expressions hasn't rubbed off on you yet, it may be time to get up from your computer and visit one of the company's stores. Its online presence consists mainly of an arty MySpace page and a stub Web site with the slogan, "Get Lomographic!"
Of course, the store's expansion comes not long after the mass closing of traditional camera retailers such as Ritz Camera in the last few years. (Perhaps this will give struggling CD retailers a reason to hang on.)
Steven Baker and Michael Gleicher of Winick Realty represented the landlord, Abington Holding. Albert Rashtian of European American Properties represented the tenant.