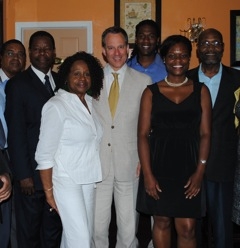 The Eric Schneiderman campaign for attorney general is out today with a new slew of endorsements from some prominent members of the city's burgeoning Haitian population, including Councilman Mathieu Eugene, George Casimir of the Haitian-American National Alliance, and the Haitian-American chamber of commerce.
Says Eugene: "There is no one in the race for attorney general who has a longer record of fighting for working families or is more committed to justice than Eric Schneiderman."
A few items of interest here: One is that so far most of the unions have lined up behind Schneiderman, while most of the major local Democratic parties (Brooklyn, Queens, Nassau) have lined up behind his chief rival Kathleen Rice. But county organizations are only as strong as their members, and Schneiderman may have enough electeds behind him to blunt the support of the party bosses. And secondly, this endorsement further cements Schneiderman's status as the so-called minority candidate in the race, and minorities are likely to come out in relatively big numbers on September 14.
Rice meanwhile was supposed to be endorsed by Orthodox Jewish powerbroker Dov Hikind this morning in front of several leaders in Boro Park, but the event was cancelled because Rice was called back to her Nassau D.A.'s office.