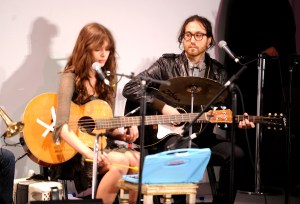 Those who walked into the Odd Molly show yesterday saw on a riser some objects unfamiliar at a runway show: a drum kit and a few guitars. Most shows go with the tried-and-true loud scene-making music, but when you can get a Lennon to play your show, convention can take a back seat. What's more, Sean Lennon's new band consists of him and his girlfriend, Charlottle Kemp Muhl, who co-writes the songs with Sean.
Wait, a Lennon performing with his lover? Something about that sounds familiar…
"Yeah!" Sean Lennon told The Observer when we asked whether his musical relationship with the Charlotte, a model, parallels that of John and Yoko. "I'm a man and she's a woman, and there are not many couples that had bands. I guess it's The Mamas & the Papas, Sonny and Cher, uh — who else? Well, Blondie was a couple. So I guess we are like other bands that are couples, in that we're a couple." Charlotte stood by packing up some cords and gear from the stage, letting her reddish hair topple over the front of her face.
The duo, which will release an album under the cumbersome moniker The Ghost of a Saber Toothed Tiger, has a sound that's both jaunty and folky, with Sean and Charlotte trading vocals, often in the same song. When the show began, it became clear as to why the band was chosen to soundtrack this particular show: Charlotte's cooing voice warbled over French-tinged accordion, an instrument that matched up perfectly with the old-Paris bohemian gypsy feel of the collection. The models also had red and pink streaks in their hair.
When the next song ended up being a poppy number with Lennon on the vocals, it was hard not to hear the influence of his father's band — especially when we saw Sean up close and did a double-take because of his resemblance to John. Lennon, however, maintains that the project is very different from that immortal sound his father created.
"I dont think musically it's really the same because my mother and father didn't write songs together, and we write songs together. And our music style is slightly different, probably."