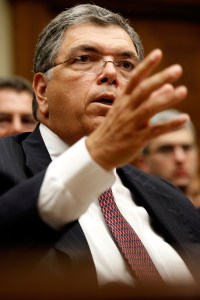 Even though the judge presiding over the case believes the SEC's settlement of charges that Citigroup misled investors about its exposure to subprime mortgage markets is too soft on the bankers, there's a bright side. Filings by the SEC in the regulatory dispute are giving Wall Street onlookers a detailed look at the alleged misdeeds of top Citi managers at the onset of the credit crisis.
Two former Citigroup leaders, Charles "Chuck" Prince and Robert "Bob" Rubin, knew about losses in the bank's mortgage portfolio in 2007. Those same mortgage losses later drew the ire of regulators because the company failed to disclose them, Bloomberg reports.
Few investors shed tears as the chiefs departed the firm. Prince resigned from Citigroup in November 2007 amid staggering losses on subprime mortgages. Vikram Pandit replaced him. Naturally, he was thrown out on his rear end and — oh, yeah, he left with an $82 million severance package. Rubin, who had previously served as Treasury Secretary under Clinton, left the company in January of last year.
The SEC's findings about Prince and Rubin arise amid the SEC's defense of its decision to settle the case for $75 million. Although Prince and Rubin have been implicated by the SEC's investigation, the agency has proposed a settlement in which former CFO Gary Crittenden and former head of investor relations Arthur Tildesley Jr. Each agreed to pay less than $100,000 in penalties. The regulators say Crittenden and Tildesley are the ones who are most obviously connected with the alleged misstatement.
At issue is whether Citi's current shareholders should be punished for the company's misdeeds of yesteryear. However that question gets resolved, it's fun to run down the old list of subprime-hiding execs one more time.