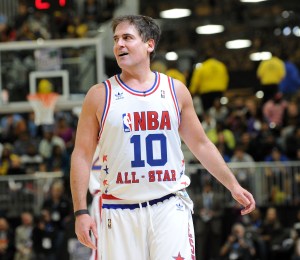 The Securities and Exchange commission is reopening an insider-trading case against Dallas Mavericks owner, occasional "Entourage" guest star and exceptionally tall billionaire Mark Cuban, The Wall Street Journal reports.
The Fifth Circuit Court of Appeals has said a lower court should once again take up a case in which the SEC alleges that Cuban found out a about private stock offering in Internet company Mamma.com and then sold his shares based on the confidential information. Cuban's lawyers say that he had agreed to keep news of the share offering private but was under no obligation to hold onto his stock.
Cuban said the case is "utterly meritless," and his lawyers said they believe they will win.
In addition to running the Mavs, Cuban owns Landmark Theatres and blogs.