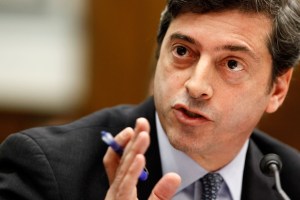 Securities and Exchange Commission enforcement director Robert Khuzami today said that his agency has made great improvements since allegedly screwing the pooch when investigating suspected Ponzi schemer Allen Stanford.
Khuzami said that his agency is "also vigorously pursuing its case against Stanford and the others charged in this massive Ponzi scheme." He pointed to the "scope and egregiousness" of Stanford's crimes as reason for the SEC to "hold the wrongdoers accountable and seek maximum investor recovery."
Khuzami's remarks before the Senate Banking Committee follow a report by Securities and Exchange Commission Inspector General David Kotz that says the SEC missed its chance to catch Stanford four times between 1997 and 2004. Kotz also says that the head of enforcement in the SEC's Fort Worth office, Spencer Barasch, worked to prevent investigations of Stanford from going forward. After leaving the SEC, Barasch allegedly tried to join Stanford's legal defense.